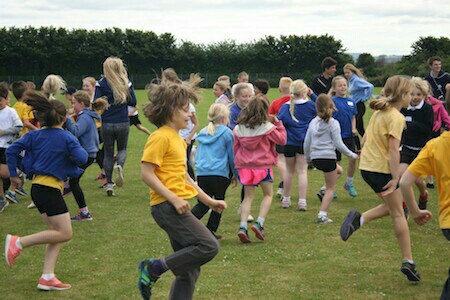 On Tuesday 5th July,  six schools from across the Dawlish Learning Partnership gathered together at St Luke's Science and Sports College in Exeter for the annual DLP Key Stage 2 Athletics tournament.
Each school sent along a team of two girls and two boys from each year group in years 3,4 & 5 to take part.
The children competed in a number of activities including sprinting, long jump, speed bounce, skipping, vortex howler and target practice and a relay race, with all the children showing some fantastic skills as well as good sportsmanship.
Well done to all the Exminster children who took part. A special mention must go to the four year 4 children who opted for the challenge of competing in the year 5 age group. They showed great motivation and resilience throughout their events. A huge congratulations to Scarlett-Mae Stacey, who despite being a year 4, won the best girl in the year 5 age group!
Many thanks to St Luke's College staff and student leaders for hosting the day and for coming in on their day off, due to a teachers strike, to ensure this event still went ahead. Thanks also to all the parents and carers who helped with transport and came along to support their children.