Details
On Thursday 4th June, Digital Leaders from across the Dawlish Learning Partnership joined together at Dawlish Community College to showcase the exciting technological projects they have been working on back in their schools.
Children from Exminster, Kenton, Cockwood, and Westcliff Primary Schools along with students from Dawlish Community College took part. The evening began with a talk from guest speaker, Jacob Tomlinson who is the Senior System Administrator at the Met Office in Exeter. An ex student of DCC, Jacob explained how computing impacts on everything we do in life, including forecasting the weather.
Year 7 Digital Leaders from DCC then gave a presentation on some of the projects they have been involved in since joining the school, including Adobe Photoshop, then two Year 10 students gave an overview of the Computer Studies GCSE.
The floor then opened to the primary schools who were able to showcase their work to all the parents who attended the evening.
Exminster – Isle of Tune
Westcliff – Live Radio
Cockwood – K'Nex
Kenton – Bee-Bot and Human Crane
Jacob Tomlinson was given the very difficult task of choosing a school to present a prize to. All the schools were highly commended, but Westcliff's Digital Leaders were chosen to be awarded a Raspberry Pi, a small computer that can be used to learn programming through fun, practical projects, due to their passionate presentation style.
All the Digital Leaders who attended the event were presented with a certificate and a fun and informative evening was had by all.
Check out the photos from the event below.
http://www.mydlp.org.uk/admin/wp-content/uploads/2015/06/Digital-Leaders-Showcase.m4v
Details
The children in Year 6 have had a challenging week doing their SATs tests. Each day has seen them tackle another tricky test! They have risen to the challenge really well- taking everything in their stride and working with a real determination to do their very best. (The biscuits and juice at the end of each test seem to have really helped!)
Well done Year 6 - we are very proud of you all!
Mrs Sydenham, Miss Vass and Mrs Badcott
Details
In Literacy this week in Year 4 we have been having a focus on the contrast between living in the country and then the city. We went on a walk around school to experience nature and then when we came into the classroom and listened to lots of very loud city noises. We wrote some powerful description based on our senses. Below is a photo of Rianna's, we wish we could take photos of all of them because we are all very proud of our work.
Year 4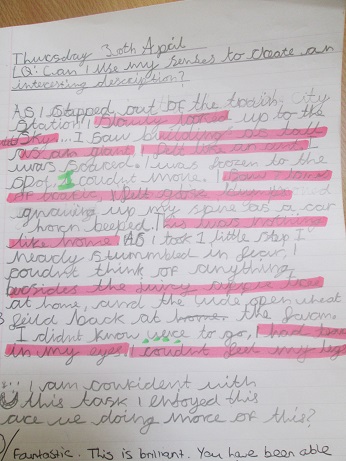 Details
This week is Problem Solving Week in school. The children will be engaged in solving different maths problems each day this week. Below is a video of quotes from some of the worlds best problem solvers.
As part of the week there will be three new problems posted in the 'Marvelous Maths' section (under parent zone, maths zone) of the school website each day from Monday to Thursday - each one a bit more challenging. If you have a go at the challenge bring it in on the following day and put it in the 'Maths Challenge Box' by the office. Each day we will choose a selection of the work to go onto the school webiste to show the solutions to everyone. Those pieces of work that explain how the solution was achieved are more likely to get chosen. Please make sure you write your full name and class on the piece of work.
You could have your name in lights!
Subcategories