Latest News
Lately a new Maths programme has been introduced to our school and it is making a big impact. The programme is named Manga High and the children have to complete Maths tasks set by their teacher and earn medals as they go along. Recentley we have been competing in a Fai-To challenge aginst Drake East Middle School in America. A Fai-To challenge is where the tasks set by your teacher are recorded and the points you win in you Maths games count up and become your score against the opponent. The Fai-To tournament lasts for a couple of weeks and at the end whoever has the most points wins. So far we are winning and we are aiming for the top spot. We will keep you updated on our score and future Fai-To tournaments.
In Year 4 this week we made a video of us singing to bury on the school field. We hope that it is found in 100's of years time, so children can see what it was like at Exminster School in 2013.
> >
Congraulations to Mrs Kay. Her baby boy, Killian, arrived on Thursday 14th November at 7.35am, weighing 7lb 6oz and only 14 days late! Both Maeve and Killian are doing very well.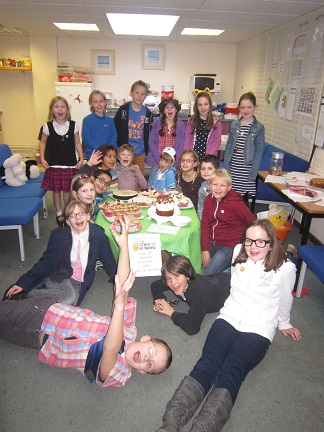 Children in Need Day 2013
School council members and Mrs Goode (our school cook) judged the staff bake off!!
There were a prizes for decoration and taste.
Mrs Whalley won for the best decoration prize and Mrs Norman won the best taste, well done to both!!!
Thank you to all the staff for entering and the children for their fancy dress and donations to Children in Need!
Mrs Roberts