Latest News
The children in Year 6 have had a challenging week doing their SATs tests. Each day has seen them tackle another tricky test! They have risen to the challenge really well- taking everything in their stride and working with a real determination to do their very best. (The biscuits and juice at the end of each test seem to have really helped!)
Well done Year 6 - we are very proud of you all!
Mrs Sydenham, Miss Vass and Mrs Badcott
In Literacy this week in Year 4 we have been having a focus on the contrast between living in the country and then the city. We went on a walk around school to experience nature and then when we came into the classroom and listened to lots of very loud city noises. We wrote some powerful description based on our senses. Below is a photo of Rianna's, we wish we could take photos of all of them because we are all very proud of our work.
Year 4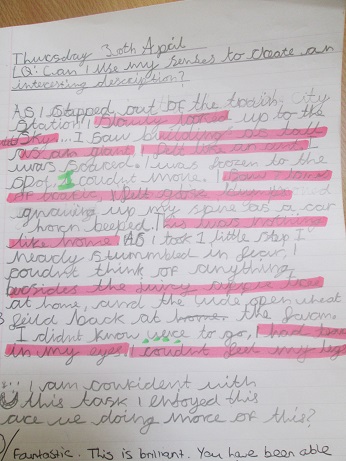 This week is Problem Solving Week in school. The children will be engaged in solving different maths problems each day this week. Below is a video of quotes from some of the worlds best problem solvers.
As part of the week there will be three new problems posted in the 'Marvelous Maths' section (under parent zone, maths zone) of the school website each day from Monday to Thursday - each one a bit more challenging. If you have a go at the challenge bring it in on the following day and put it in the 'Maths Challenge Box' by the office. Each day we will choose a selection of the work to go onto the school webiste to show the solutions to everyone. Those pieces of work that explain how the solution was achieved are more likely to get chosen. Please make sure you write your full name and class on the piece of work.
You could have your name in lights!
> >