Latest News
Year 7 students at Dawlish Community College were joined by Year 6 children from Kenn, Kenton and Exminster Primary Schools to take part in two Gifted and Talented Art workshops led by Art Teacher, Mrs Parr .
During the two sessions students produced some amazing artwork and drawings inspired by fish and sea creatures. The young artists used their creative skills to draw, design and produce collograph prints. Some of the comments from students who took part in the workshops:
Were you pleased you were invited to attend the workshop?
"I was really pleased to be asked on this workshop as art is my favourite lesson, Art is fantastic" – Ella C
" Yes as I love to draw, and I was delighted we were working with fish forms" - Megan
" Yes because I enjoy art and would like to do more of it" - Julian
" Yes I was because I love art and I like to get a taste of Dawlish before I start in September" - Gaia
What was the thing you most enjoyed?
"Learning new things about art, like print making" - Millie
Is it worthwhile mixing students from different years and schools for these types of workshops?
" Yes it is a good idea as you can make new friends" - Ella C
" Yes, if I didn't understand, I could ask a Year 7 student as they would tell me what to do" - Rachel
Please have a look at the website below for some photos.
On Monday 16th June Exminster Primary School were very proud to take part in the DLP Art Exhibition held at the Langstone Cliff Hotel. It was an inspiring and celebratory event and all schools in the Dawlish Learning Partnership were represented. Thanks to the Helen Foundations funding many children within the DLP had the opportunity to create some amazing art pieces as they worked alongside professional DAISI artists. Performances from the DLP Choir, DLP Wind Band, Exminster Dance Group, Kenton Dance Group and Cockwood Samba Ensemble entertained over 200 family, friends, staff and governors.
The evening followed an arts week at school with the theme 'Carnival'. Each year group used their creative talents to produce art work that was displayed at the evening. Including Year 1's Rangoli artwork; digital images were cleverly printed onto fabric to create wall hangings, Year 2's carnival float pirate ship and a large circus batik made by our gifted and talented artists from across both key stages. Please look on the website http://www.mydlp.org.uk/arts-carnival/ for more information.
| | |
| --- | --- |
| | Today, Mrs Jones organised our Greenfingers day. We would like to say a huge thank you for the donations received. Thank you to Mike Bond, Ethan and Emmie's grandad, for his kind donations, thanks to New Leaf and Tracey Conway, Evan's mum, and thanks to St.Bridgette's nursey. Thank you to all the parents who kindly made plant, pot or compost donations. The children all enjoyed the afternoon of planting and working with another class. It truly brightens up the environment so well done to everyone involved and Mrs Jones for initiating this fantastic afternoon. |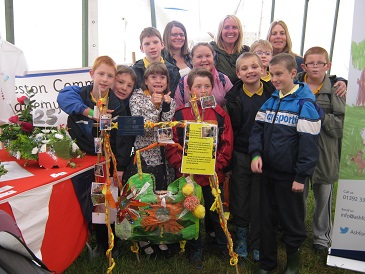 On the 22nd of May the year 6 Allotment group had great success with their Eco friendly t-shirt that they had entered into the Devon county show . They won first prize with their amazing creation made out of carrier bags, chocolate wrappers, sunflower seeds and real flowers grown at the school Allotment .The school will be receiving a prize in September so stay tuned for news.
Well done year 6 !