Latest News
Composer Peter Kyrke-Smith came to visit Year 3 today with Claire to make a musical in a day and what a day it was!
GREECE LIGHTNING!
Making Olympic History In A Day!
The first Olympic Games were religious festivals as much as sports competitions, and the Greek gods always took a very keen interest in what happened…
GREECE LIGHTNING! tells the history of the Games in Ancient Greece - and then shows what happens when the Greek gods turn up rather unexpectedly for the Opening Ceremony of Rio 2016!
Will the Greek gods simply sit back and watch, or might they just be tempted to meddle with the medals..? Why else would a wing-footed runner from Greece called Hermes be up against Usain (Lightning) Bolt in the final of the Men's 100 Metres..?!
Dramatic drama… great songs to sing… the historical truth (well, mostly…) - Year 3 put on an incredible performance to parents and the rest of the school.
Here are some of the pictures from the rehersals.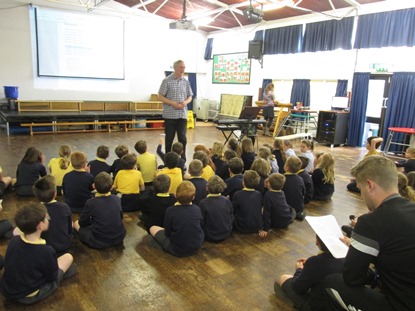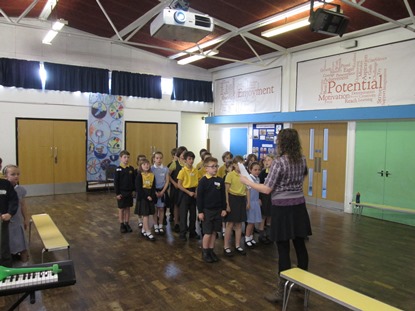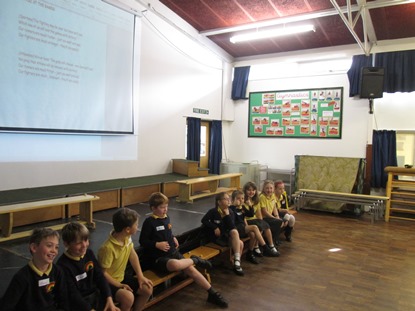 Click read more to see some video clips from the performance.
Exminster Community Primary school is proud to be trialling Family FUNS. Family FUNS is a programme designed to work on children's fundamental movements combined with parts of the SEAL curriculum. Mrs Martin, Mrs Godbeer and Mrs Mason are delighted to be working with some parents of children in key stage 1. They are having great fun and have so far been pirates and astronauts. Take a look at some of the children leaving their spaceship this week to collect space rocks!