Latest News
On Wednesday 9th March, 12 children from Exminster School took part in a gymnastics competition at South Dartmoor Community College.
There were 6 children in a Year 3/4 team and 6 children in a Year 5/6 team.
The children had to perform a floor routine and a vault exercise, which they had been practising and learning over the last few weeks.
They all performed extremely well and should be extremely proud of their performances.
Both teams won their categories and were absolutely delighted with the result.
They have cartwheeled themselves into the regional finals to be held on Wednesday 16th March at Newton Abbot Gymnastics Club.
Congratulations and good luck to all of the team!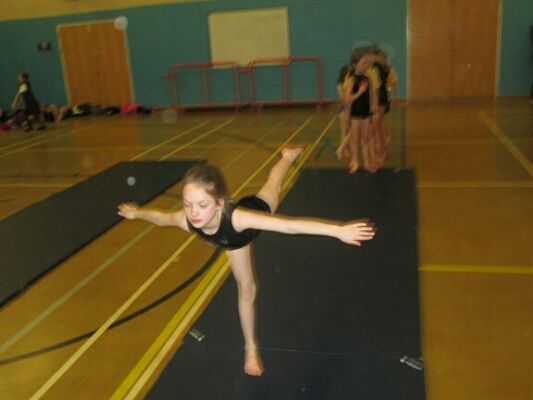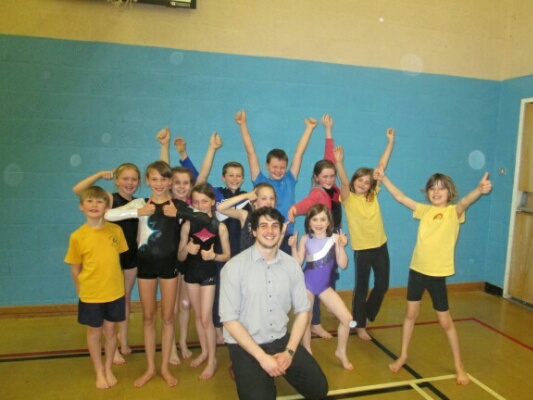 This week for our art collaboration project we created a rainbow using over 2000 lolly sticks. Firstly we painted them using different tones and shades. We then glued them onto a canvas and built them up as layers to create a 3D effect. Every member of Year 6 contributed and we all had a lot of fun. We hope to display it around school.
Year 6
The children in Reception really enjoyed sharing books with children from Year 5 today.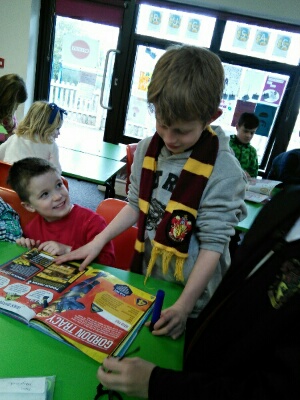 This week Year 2 have been learning to use marbling inks. We have created beautiful marbled papers in warm and cool colours that we will use as the background for a castle and dragon themed picture. We have been inspired by the work of illustrator Jan Pienkowski. The children were very thoughtful and expressive in their responses to Jan's stunning artwork. We look forward to finishing our works of art later this week.