Latest News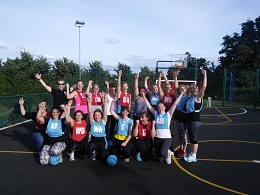 The annual Staff v Parent netball match took place last night. It was a tight(ish) match with much focus and determination. A classic 4 person pile up, a bit of ballet dancing, assertive instructions, interesting foot work and the concept of 1m all made it a tense match! The oranges came on at half time and a bit of firm team talk got the ladies in check! All in all it was a long, gruelling 40 minutes but the staff managed a convincing win against the parents with a final score of 15-11.
Today, our 2 new headteachers helped to run the school. Edith and Scarlet won the raffle at the school fair to become the headteacher for the day. The day started by greeting people at the front gate. Next they went to each class to introduce themselves to everyone. We had a visitor who looked around school and the new headteachers told them all about our learning. After supervising break time, the girls went to the school kitchen to find out about how our school dinners are prepared. The girls found out about our school budget and what we have to spend the money on to run the school. We talked about school governors and their role in school.
The girls have a list of things they want to find out about today and we are gradually making our way through it!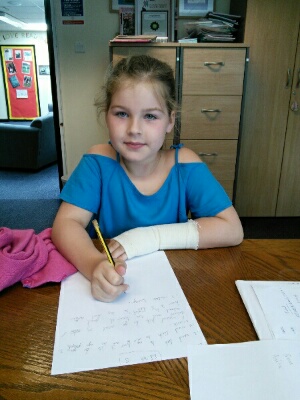 We have really enjoyed going up to the allotment today. We have all had a chance to go. The children have watched potatoes being dug up. They have explored the fruit, vegetable and flower beds. What happy children and knowledgeable children we have in our school.
On Thursday 7th July 2016 the children of Exminster Community Primary School were treated to a once in a lifetime assembly. As a reward for our participation in so many of the DSSP events and festivals this year we were visited by Cassie Patten; Beijing Olympics Bronze Medallist in the 10km Open Water Swim. The assembly by Cassie was extremely motivational and was aimed at promoting children to persevere in everything they do in order to reach their potential. After the assembly, sixteen lucky girls from Year 3 and Year 4 took part in an hour of games run by Cassie and her assistant Scott. The girls chosen have all been part of our Change4Life Club over the school year, and hopefully the experience will give all children in school a passion for reaching their goals.
"This is the best day of my life!" Scarlet.
"I never thought I would meet someone in the Olympics!" Emma
Thank you Cassie for your visit. It was an honour for the children to meet an international sports star.