Latest News
We apologise for the inconvenience surrounding the school uniforms ordering process. We are working hard to resolve this and will hopefully have a solution that fits everyones needs early next week (18th July).
We will endeavour to keep this page up to date with any news.
Thank you again for your patience.
18th July 2016
Just to keep parents informed that we have chosen Thomas Moore of Exeter as the supplier of our school uniform.
Feel free to follow this link to purchase any uniform.
For Rainbow Day five Year 6 girls known as Ella, Callie, Anna, Erica and Eva ran a baking activity where the children had to design and decorate cakes and biscuits. This was part of their civic award. "The cakes looked very creative and I was impressed with the final product" remarked a proud Ella. "All of the cakes were unique and we managed to raise money for hospice care" said Callie. Well done to involved, a very sweet outcome...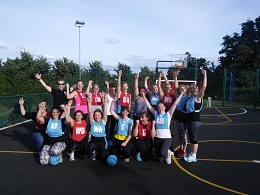 The annual Staff v Parent netball match took place last night. It was a tight(ish) match with much focus and determination. A classic 4 person pile up, a bit of ballet dancing, assertive instructions, interesting foot work and the concept of 1m all made it a tense match! The oranges came on at half time and a bit of firm team talk got the ladies in check! All in all it was a long, gruelling 40 minutes but the staff managed a convincing win against the parents with a final score of 15-11.
Today, our 2 new headteachers helped to run the school. Edith and Scarlet won the raffle at the school fair to become the headteacher for the day. The day started by greeting people at the front gate. Next they went to each class to introduce themselves to everyone. We had a visitor who looked around school and the new headteachers told them all about our learning. After supervising break time, the girls went to the school kitchen to find out about how our school dinners are prepared. The girls found out about our school budget and what we have to spend the money on to run the school. We talked about school governors and their role in school.
The girls have a list of things they want to find out about today and we are gradually making our way through it!