Latest News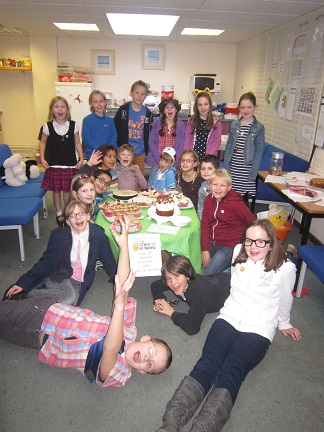 Children in Need Day 2013
School council members and Mrs Goode (our school cook) judged the staff bake off!!
There were a prizes for decoration and taste.
Mrs Whalley won for the best decoration prize and Mrs Norman won the best taste, well done to both!!!
Thank you to all the staff for entering and the children for their fancy dress and donations to Children in Need!
Mrs Roberts
Please look at our consultation documents in the 'Parent Zone' section.
Congratulations to Mrs Fuller, recovery is needed after her exciting trip to London! Mrs Fuller received an award this week for the 'Reading Recovery Teacher of the Year' for the South West. Dawn was a runner up and presented with a certificate and an award at the prestigious ceremony in London on Friday. She beat hundreds of entries for the South West for her hard work and dedication towards Reading Recovery. Not only has Dawn gone the extra mile with the children she supports of a daily basis, she has also acted as an exemplary practitioner for members of staff, sharing her expertise and knowledge of developing children's reading. She always shows such passion and commitment, suggesting ways in which we can develop reading further for children's enjoyment and progression. Recently, Dawn has started a reading club, letting children come and enjoy their books, read to them and with them and even compose poetry. Dawn is so committed to ensuring that children believe that they themselves are a good reader, raising confidence levels and attainment. We are so proud of the work that Dawn and done, and the hard work that all the children and families have done as a consequence of Mrs Fuller's work. Well done and thank you.
School Fair - 21st June
10 Teachers - 1 Will Be Gunged!!
To help raise essential funds for Nayamba School in Zambia (one of our chosen charities this year) 10 of our wonderful teachers have 'volunteered' to be gunged at our annual Summer Fair on Friday 21st June. Votes are 50p each, with no limit to how many votes you can make but if you would like to see what the teachers themselves think you sure do, please watch our video.
> >
All funds raised will go towards essential reading books that will be hand delivered by 2 families who are visiting the school and will be setting up a reading scheme and training the teachers to develop reading in school.