Details
Just a normal Monday morning here at Exminster Community Primary School. Children and staff entered the building via the VIP entrance to begin our Times Table Rockstar day, practising our fluency within number bonds and times tables. The day started with an amazing version of 'We will Rock You' written and performed by Mr Godfrey '3 times 3 times table' then a battle to find the quickest teacher on TT Rockstars to compete against our fastest pupil, Charlie in Y3. The day is filled with games and activities to increase our fluency whilst having a great deal of fun - our Rainbow Value of Enjoyment is being celebrated today!
Details
4C Wildside Residential - we are a little bit on the tired side! We had an amazing experience with night walks, games in the woods, archery, orienteering, zip wire, games, more games, laughing, more laughing, wind and so many memories created. Thank you to Wildside for giving us these experiences and to our parents for sending us. Over the next few days, we will be blogging on the Year 4 class blog about our adventures.
Details
On Friday, we had two new headteachers for the day. Miss Gilmore and Miss Frazer won the raffle at the summer fair and spent the day being the headteachers. After an 'access all areas' tour (the kitchen was their highlight) they spent time in the Reception classes getting to know the names of our new children. They surveyed the staff, asking them what the best bit about the school was and what they would like to improve. Mr Godfrey felt that a milkshake fountain would improve the school whilst other staff requested a staff uniform, a pay rise and more resources! They also surveyed the children who gave a range of answers for their improvements: more play equipment, a swimming pool, more glue sticks. Both the staff and children said the best bit about the school was the kindness people showed. Our new headteachers ran the assembly, planned what the school would be like in five years time (I will not be headteacher according to their predictions!) and learnt a lot about the role of a headteacher. They did a fantastic job and I am now ready to hand my badge over to them! Mrs Whalley
Details
Congratulations to our successful allotment group and Mrs Pike who won many certificates at Kenton Village show on Saturday 1 September. A first prize was achieved for pumpkin, herbs and lettuce, second for courgettes, longest runner bean, runner beans and third for selection of vegetables. Our thanks go to all the volunteers who support the allotment and a huge thanks to Mrs Pike (and her family) who spends a great deal of time, love, thought and energy on our fantastic school allotment.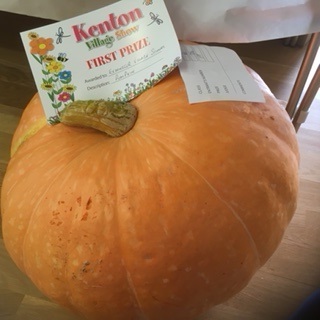 Subcategories