Extra Curricular Events
On Wednesday 21st September, 50 children from Exminster School took part in a cross country event at Stover School. It was fantastic to see so much effort and determination shining through from the Exminster children and their consistent display of the Rainbow Values. Warren said, "It was really hard but I tried my best." It was also great to get such high numbers at one event and see so many yellow tee shirts representing our school. The Year 3/4 team were crowned champions and have added to the Exminster silverware. Well done to all the children who took part. A special mention must go to Thomas Brown from 4S who came 1st in his race against more than 100 other competitors.
Thanks again to the generosity of our parents who provided transport and cheered on Team Exminster. Without your help these events could not be possible.

On Friday 11th September 4 children from Exminster School took part in the Tour of Britain Cycling Challenge. They braved the cold and rainy weather at Haytor and cycled the final hill climb of the stage. The children did extremely well. They were fantastic representatives for the school and finished in 4th overall. They were then treated to seeing the Tour riders cycle up the road and watched them cross the finish line.
Mia said, "It was really rainy and tiring and my legs still hurt but it was great fun! I was really happy that I came first in my race!"
On Wednesday 13th July, 8 Year 5s and 6s took part in the finals of the DSSP Dartmoor 3 Ball competition. They played against Shaldon, Bradley Barton and Broadhempston and played each team twice. The children showed fantastic striking and fielding skills and worked really well as a team to get all three balls back in the bucket. The children won 4 games, drew 1 and lost 1. At the end of the afternoon, Exminster were crowned the champions and received their well deserved gold medals and trophies. Well done to all the children who took part.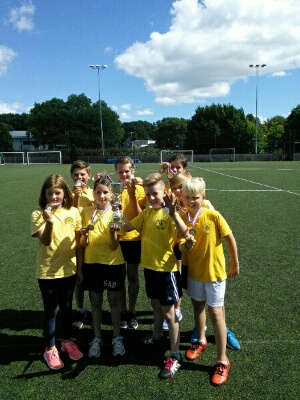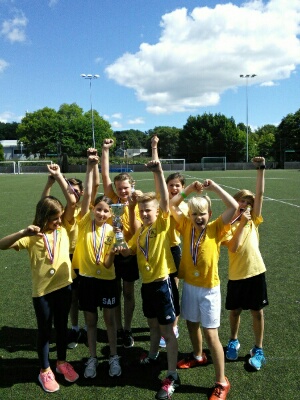 On Monday 4th July, five schools from across the Dawlish Learning Partnership gathered together at St Luke's Science and Sports College in Exeter for the annual DLP Key Stage 1 Athletics Competition.
Each school sent along a team of two girls and two boys from reception, year 1 and 2 to take part in a variety of activities. After starting with a 'Monsters Inc' themed warm up, everyone was ready to compete in a number of events including a standing long jump, bean bag sprint, shot put & relay race. The morning finished with a fun 400m fun run around the track.
All the children cheered for their fellow team mates and showed some fantastic sports skills during all the events.
Each child who took part from Exminster, Kenn, Kenton and Westcliff and Cockwood Primary Schools received a certificate and medals were presented to the top performing boy and girl in each year group and bronze and silver medals were awarded to the second and third placed schools.
Team Exminster did fantastically well and were rewarded with the Bronze medals. A special mention must go to Kade Waldrom who achieved the 'Top Boy' award for his year group.
Many thanks to St Luke's College staff and student leaders for hosting the day and to all the parents and carers who helped with transport and came along to support their children and school.
Well done to all the children who took part and represented their school!