Year Two
Miss Bevan was so brave to hold the snake today. The snake was called Elsa. Did you know that Elsa eats rats for her dinner!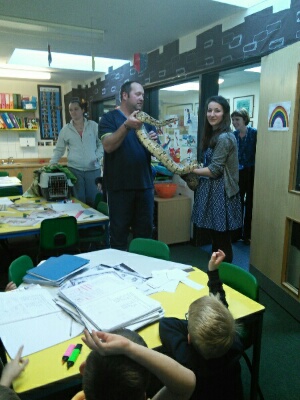 In year one we are innovating the story Naughty Bus. This time we have a Cheeky Train and it has been causing mischief around school. It's been hiding in the camouflage, disturbing Mr Herring, playing the piano with Claudia and lots more!
Year 2 have had a fantastic day using marbling inks to create patterned backgrounds in the style of Jan Pienkowski. We created warm backgrounds using red, yellow, pink and orange and cold backgrounds using blue, purple, silver and grey. Take a look at our fantastic work so far!