Year Six
Congratulations to our Civic Award recipients. They received their certificates in an Awards Ceremony held at Torquay Boys Grammar School on 6th July. Schools from all over Torbay and Devon took part and it was wonderful to see Esmee, Faye, Evie, Rianna, Jennifer, Gina, Lizzie and Sophie being rewarded for their hard work! Well done we are very proud of you.
KS2 has wowed different aged audiences with a brilliant production. Lily from 6JS drew the front cover of the programme for everyone to look at. Gina Walledge said " The production was brilliant and think it is definitely something to be proud of. " The play definitely had a great response from the audience as they laughed at every joke. Thank you to Mrs Burnham for all the amazing props and to the Year 6 children for their enthusiasm and hard work.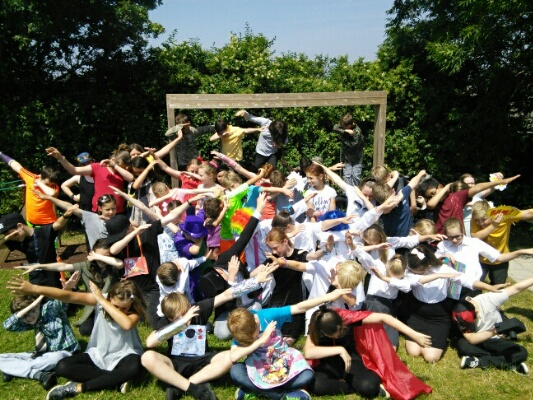 Rehearsals for the KS2 production are in full swing despite the sweltering weather! Here's a sneaky peek...
We are so proud of Faye, Lizzie, Jennifer, Evie, Esmee, Gina, Rianna and Sophie who have this week completed their Torbay Civic Award. Congratulations girls you have done an amazing job!